Government receives keys to Vanterpool administration building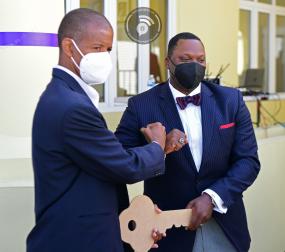 The Vanterpool administration building on Virgin Gorda was handed over in an official ceremony on February 17.
The building was repaired through a partnership between the Government of the Virgin Islands and the Recovery and Development Agency and houses departments and offices including the BVI Post, Environmental Health, Immigration, Labor, L Water and Sanitation, Social Development, Tax Administration, Civil Registration and Passport Office and Office of the Prime Minister and Visiting Minister.
Prime Minister and Minister of Finance, the Honorable Andrew A. Fahie, said the official handover of the Administration Building provides Sister Island residents with immediate access to essential government services they would otherwise have had to travel to Tortola to receive them.
The Honorable Fahie thanked the public officers who made the completion of the building possible, especially the office of the Deputy Governor, and the other officers who continue to work diligently to provide exceptional service to the people of the Virgin Islands.
Meanwhile, Deputy Governor David D. Archer, Jr. said the handover was a beacon of hope for the people of Virgin Gorda.
Mr. Archer, Jr. said that despite challenges in recent years, particularly in the aftermath of the hurricanes, public officials on the island have worked diligently and the completed building is a representation of the work that has gone into restoration efforts across the territory.
The safer and more resilient building features new roof sheets, hurricane-proof windows and shutters, complete exterior and interior paint jobs, upgraded electrical system, plumbing fixtures and doors, and an upgraded security system .
Remarks:
Photo 1: The Deputy Governor, Mr. David D. Archer, Jr. receiving the ceremonial key to the Vanterpool Administration Building from the Director of the RDA Program Strategy Department, Mr. Neil Smith. Photo credit (GIS/ Ronnielle Frazer)
Photo 2: Official ribbon cutting at the official handover ceremony at the Vanterpool Administration Building. Photo credit (GIS/ Ronnielle Frazer)
Photo 3: Vanterpool administration building. Photo credit (GIS/ Ronnielle Frazer)